Parabolic antenna JRMD-1200-6 MIMO
Description:
deep parabola with great resistance to interference and high mechanical strength
high neighboring links isolation
radom is included in package
massive bracket with fine elevation and azimuth setting
right and left side mounting
strong wind stability
Technical parameters:
Frequency range
5.9 - 7.125 GHz
Gain
35.5 ± 1 dBi
Beamwidth -3dB
2.5°
VSWR
< 1.6
Polarization
horizontal/vertical or 45°
Fine setting polarazation
±5°
ETSI EN 302-217-4-2
Class 2
Type of connector
R-SMA or N
Parabola
ø 1200 mm, aluminium alloy with baking colour
Cover
UV steady plastic ABS
Instalation for mast
ø 80 - 120 mm
ø 60 - 80 mm - with adjustable wind bracing set
Operating wind load
max. 110 km/h
max. 140 km/h
Survival wind load
max. 210 km/h
We recommend using a wind bracing set for the mounting on the mast with a diameter less than 80 mm as well as for the areas with the occurrence of strong winds.
Additional accessories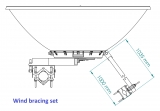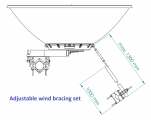 Package:
assembled antenna 1 or 2 pieces on the pallet