Parabolic antenna JRC-29 DuplEX Precision
Antenna JRC-29 DuplEX Precision is based on proven and popular JRC-29 DuplEX equipped with massive bracket JDMW-900 developed for microwave links.
Variations:
JRC-29 DuplEX Precision
JRC-29 DuplEX-SMA Precision
Specification:
dual-polarized antenna, horizontal and vertical polarization
the highest isolation! typical 53 dB
only 1 antenna instead 2 save money for mast!
extra high front to back ratio
metallic collar assures increased isolation between antenna on mast = lower interference between links
direction links for long and medium distance, also short in difficult conditions
easy to assembly: first only the holder and then the antenna only by 2 screws
fine setting elevation (of gradient) and azimuth ± 20°
right and left assembling
extrem wind stability
VSWR and isolation are measured during manufacturing of every piece
outdoor usage
the distance can be calculated in the section of calculation
radom (plastic parabola cover) for each antenna free!
Technical parameters
Frequency range
5,45 - 5,9 GHz
Gain
28,6 ±0,6dBi
VSWR
≤ 1,5
Isolation between connectors
53dB (≥45dB)
Front to back ratio
≥ 43 dB
Beamwidth-3 dB
5,8°
Connector
N - Female - JRC-29DuplEX
R-SMA - JRC-29DuplEX-SMA
Polarization
linear, horizontal and vertical or 45°
Parabola
ø 65 cm
aluminium alloy with baking colour
Cover
UV steady plastic ABS
Instalation for mast
ø 40 - 120 mm
We recommend mounting on the mast with minimal ø 50 mm in the areas with the expected occurrence of the strong winds.
The radiator is internally processed with the high frequency technology "Hydrophobic coating" which increases resistance against humidity.
Recommended accessories:
Facilities for application: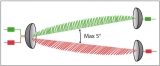 Packing
1 pcs assembled in carton
Size and EAN codes _FILE_TITLE_7_
massive bracket JDMW-900 is supplied in a separate pack