GentleBOX JB-319 MIMO

GentleBOX JB-319 MIMO contains an integrated dual-polarized panel antenna with overvoltage protection. The gold-plated layout guarantees a long lifetime.
This antenna is an optimal solution for the clients at the frequency band 3.5 GHz for a middle and long distance. It allows easy connection of Rocket M3 or other devices with the same snapping system In the combination with the GentleCLIP .
Other variants:
Technical parameters:
| | |
| --- | --- |
| Frequency range | 3.4 - 3.7 GHz |
| Gain | 18.8 ±1.0 dBi |
| VSWR | ≤ 1.8 |
| Beamwidth-3 dB | 15°/15° |
| Polarization | horizontal and vertical |
| Connector on cable | R-SMA, MMCX |
| Material | UV steady plastic ABS, Polyamide |
| Installation on mast | ø 27 - 74 mm |
| Ready for 8 cable glands | 4x Pg11, 4x M20 |
| Outer size | 326 x 326 x 113 mm |
| Inner size | 309 x 309 x 88 mm |
Specification:
GentleBOX is an inclusive outdoor box for AP, RouterBOARDs and other electronics which contains a unique system of the grooves and holes for easy installation of the most common types of the routerboards
Easy installation without drilling. You require 1 flat and 2 cross-shaped (PH1 and PH2) screwdrivers and the spanner "13" for complete installation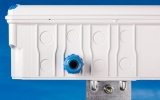 The package includes cable gland, which is fixed against spinning by specially molded retaining lines
Package contents:
Holder for the mast ø 27 - 74 mm
Non-losable bayonet locks (4pcs) - it is recommended to lubricate them with vaseline or silicone
Cable gland M20 for cable ø 4 - 10 mm, you can put the connector R145 through (1pcs)
Screws and plastic distance piers for easy installation of the electronics (8/8pcs)
Easy to use self-holding plastic piers
Recommended accessories
Package
1 pcs in carton
Bulk pack: 5 pcs in carton
Size and EAN codes _FILE_TITLE_7_
Spare parts